Restaurant Little Buddha (Malý Budha)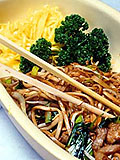 Address: Úvoz 46, Praha 1
Phone: 220 513 894
Open: 13:00 - 22:30 daily except Mondays
Cuisine: Oriental

Malý Budha is wonderful Asian Restaurant, just down the hill from Pohorelec towards Prague Castle. The food is delicious and the decor very exotic. The rooms have vaulted ceilings and there is a Buddhist temple at the end. Add to this Asian music and the atmosphere is great. The food has a good vegetarian selection, exotic juices, and authentic Vietnamese dishes with a choice of rice or noodles. You will pay usually 300 Kc for dinner for one. There is also a wide selection of tea.

Chris - the owner - is able to find food that can cure a client's medical condition. So come along, whether or not you have any problem. You will meet artists, actors and Americans there. For fans of Eastern cuisine, this is a must. Staff is friendly and the food is unbeatable. Do not miss the vegetarian spring rolls!