Restaurant and Music Club U Bubení?k?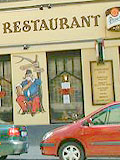 Address: Myslíkova 8, Praha 2
Reservations: 224 922 357
Cuisine: Czech and International

Eat traditional Czech dishes in our Czech restaurant, which provides an old-fashioned pub-like atmosphere.

Also visit our music club. Particularly when you are tired of the typical jazz club atmosphere, but still want to hear it played, visit our club. A typical Czech place, with good Dixieland jazz every Tuesday evening. Be sure your vocal chords are in shape, since on some nights the infamous singer from the Charles Bridge invites you to sing along with his lyrics on well known jazz standards. The number one place where atmosphere is concerned. A heavy metal fan can suddenly turn into a jazz lover here. Something you must have experienced!


For more information visit www.ububenicku.cz.